The Duple Dip
144 Strachan Avenue,
Toronto, Ontario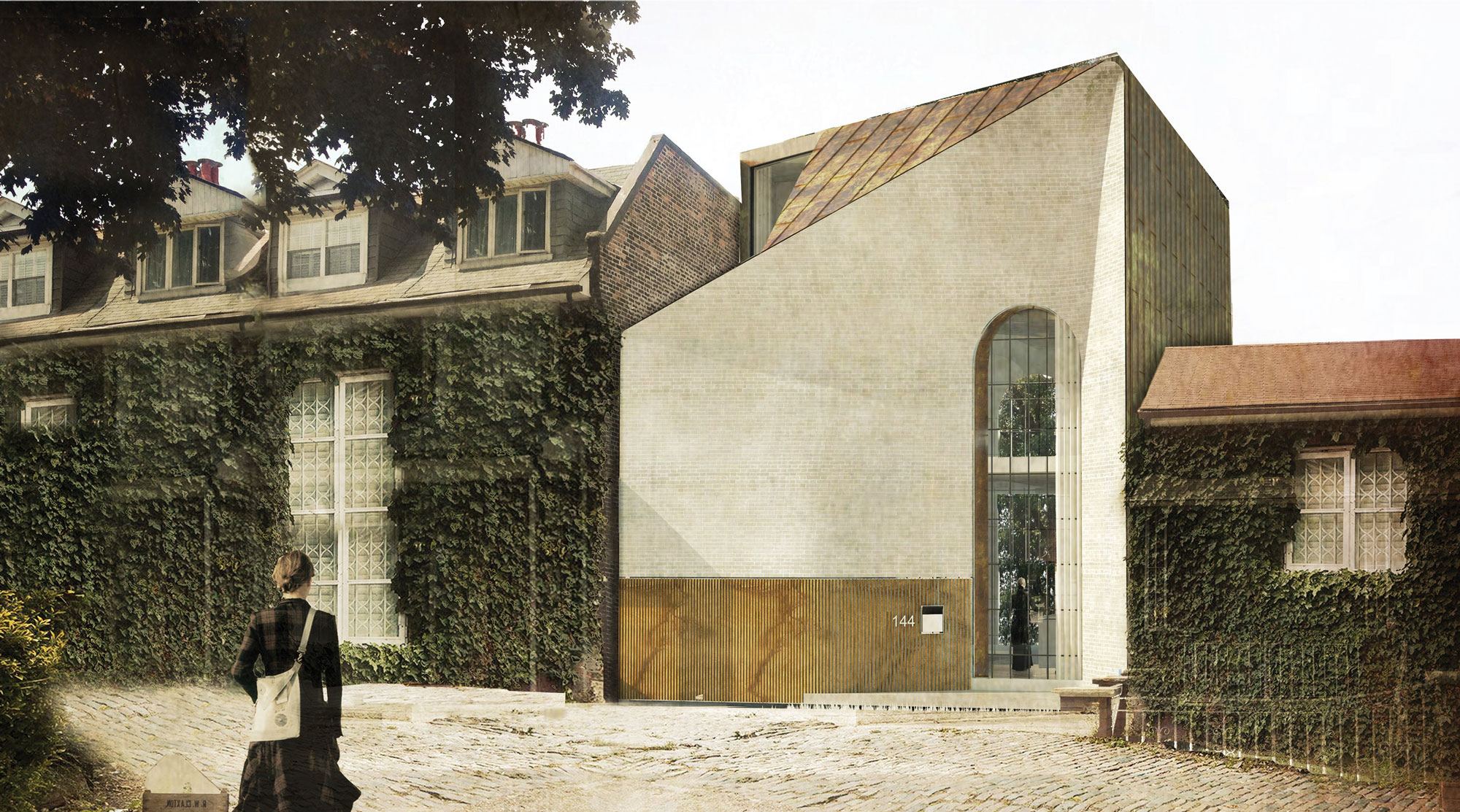 Duple Dip within the context of the West Queen West neighbourhood
Brief
A neighbourhood where the future maintains a strong register of the past. A community whose vibrancy comes from an appreciation for things as they are. A client's obsession with the neighbouring brick wall and its expression throughout her new home. These ideas became the impetus for this project and the architectural challenge. Architectural form, then, became a medium to marry simultaneous conditions: Being new while addressing the old; creating an engaging facade while embracing the characteristics of the adjacent buildings.


The front wall bends in to define the entry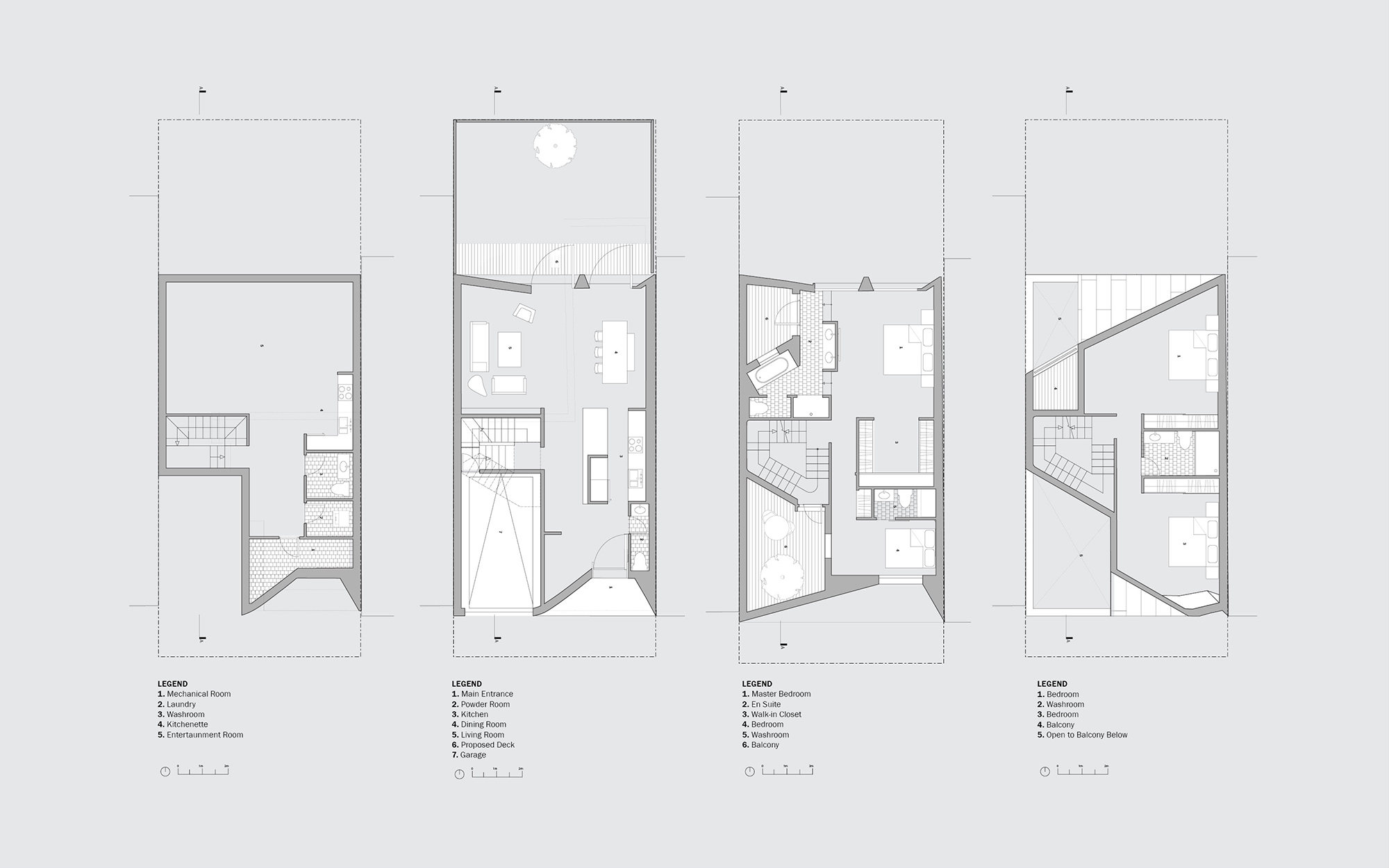 Project
Duple Dip is located in the Queen Street West neighbourhood of Toronto. This urban infill site features four outdoor platforms: the front, the back, and two elevated side yards. These four spaces are stitched together via a set of central stairs which act as a pivoting hinge to tie horizontal and vertical movement. The architecture becomes a mode of connecting four outdoor spaces.

Passage through the house
View from the kitchen towards the full-height windows that open into the backyard.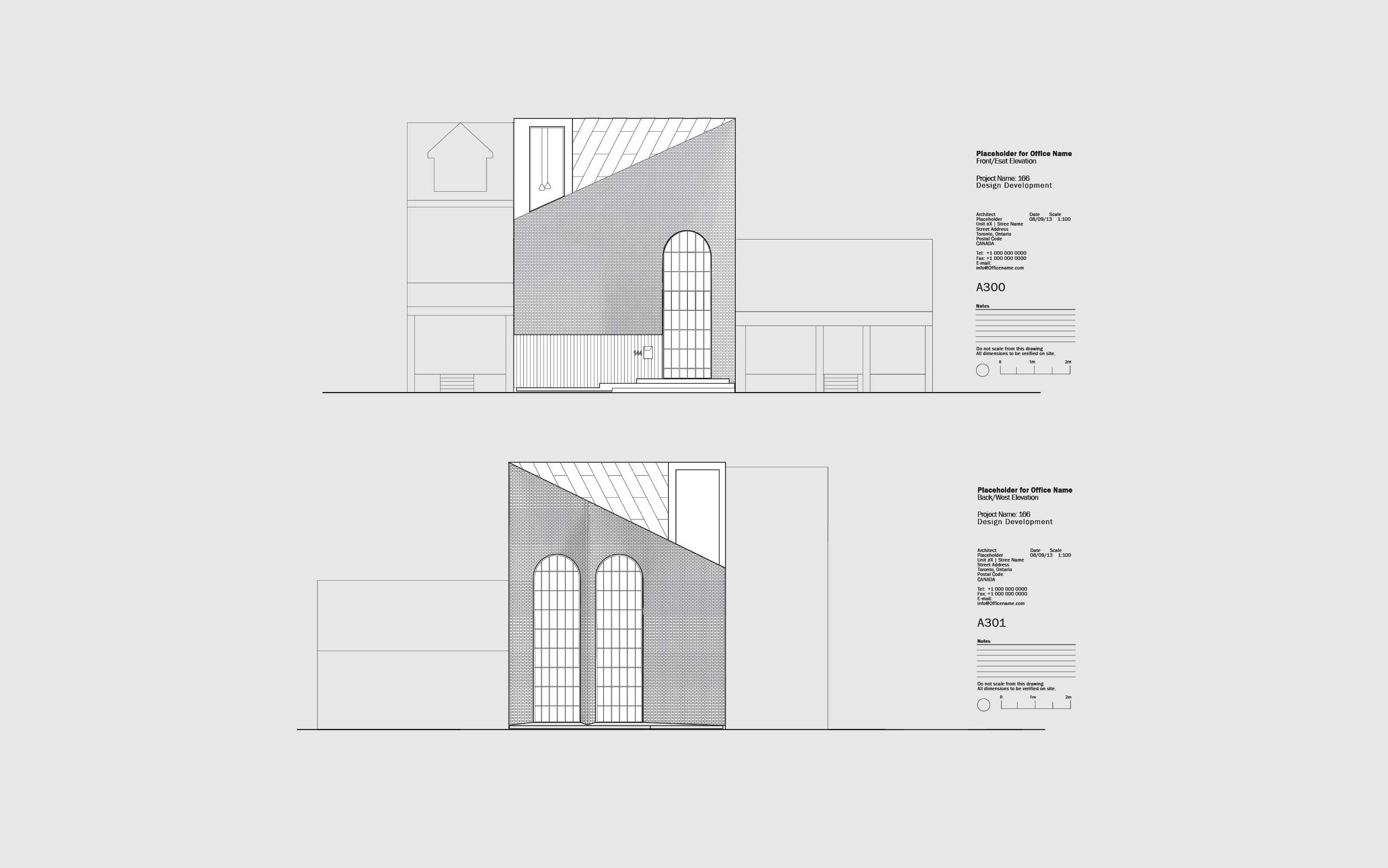 Front/East Elevation | Back/West Elevation
Space
The front and rear facades bow inwards to define strong entry points. The side yards, carved from the roof volumes and compressed against the south neighbour create privacy and intimacy in these exterior grottos. Southern light is captured in these spaces and, because of their height from grade, allow for unprotected glazing opening onto these balconies. Additionally, the neighbour's beloved brick wall becomes a visual backdrop for these rooms. The interior is made up of a complex series of spaces which cascade through one another to create a multitude of layers of light, privacy and domesticity. Materials- The use of brick is a continuous theme throughout the project. From the highly technical rain screen wall that makes up the front facade to the heavy load-bearing historic parti wall of the neighbour the different application and treatments of brick conveys the changing tectonic attitudes towards the material and nuances in expression. The project aims to highlight the ubiquity of brick in Toronto, while pointing to the fact that it is so rarely used to its full potential. Brick is an agent connecting the project to the city.

Domesticity and Privacy
View of the master bedroom and ensuite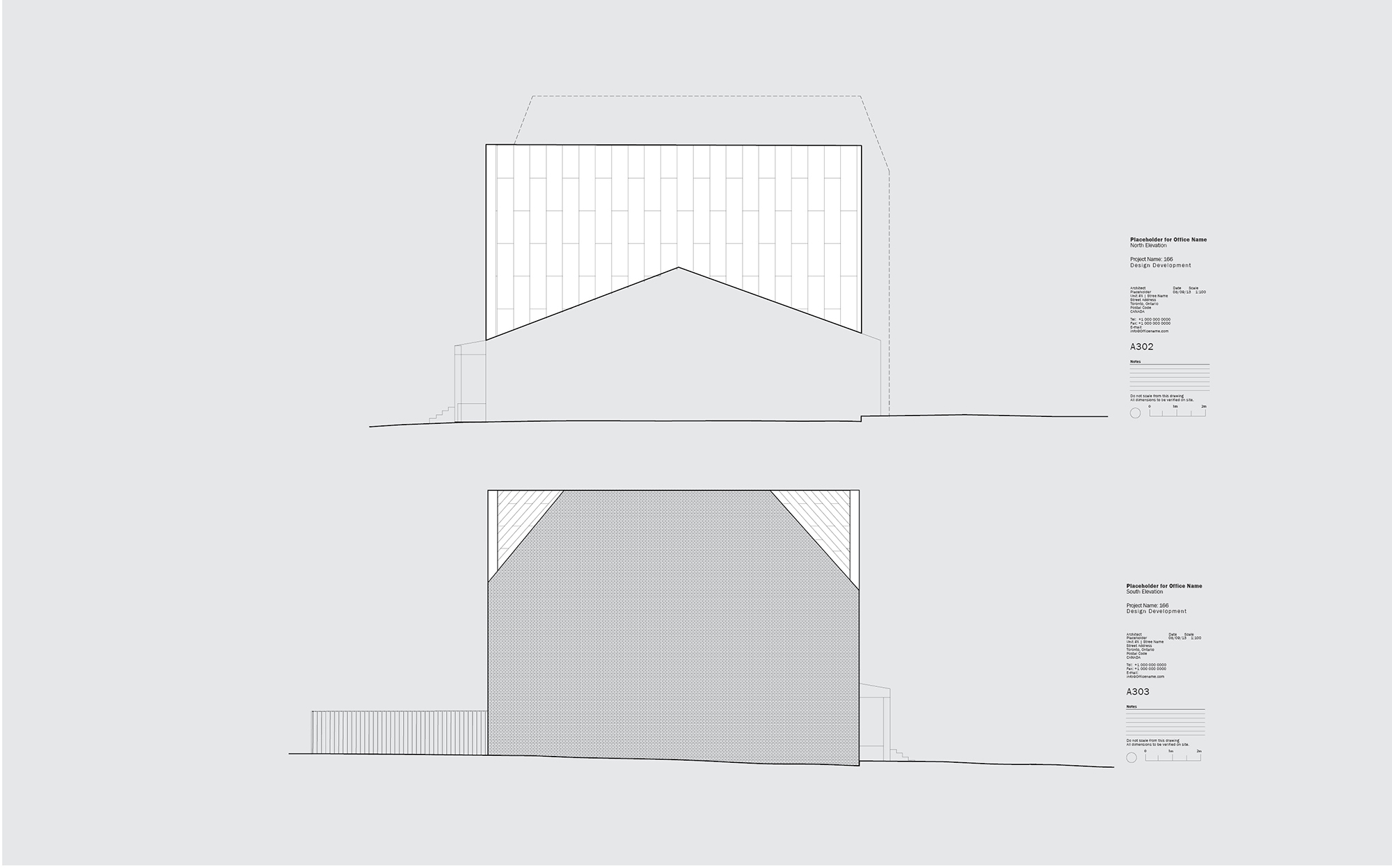 North Elevation | South Elevation

Cascading views, light and moments of intimacy
View of the ensuite, the master bedroom and the private side yard
Conclusion
In the end, this project attempts to use architectural form and typology as a vehicle to intensify our perceptions of materiality, light, and time. These qualities were, perhaps, more present in the experience of architecture and the fabric of the city in the past. Our hope is that this addition to the neighbourhood is neither influenced by the rhetoric of progress nor strangled by the rigidity of historic preservation.

The backyard is an extension of the living room.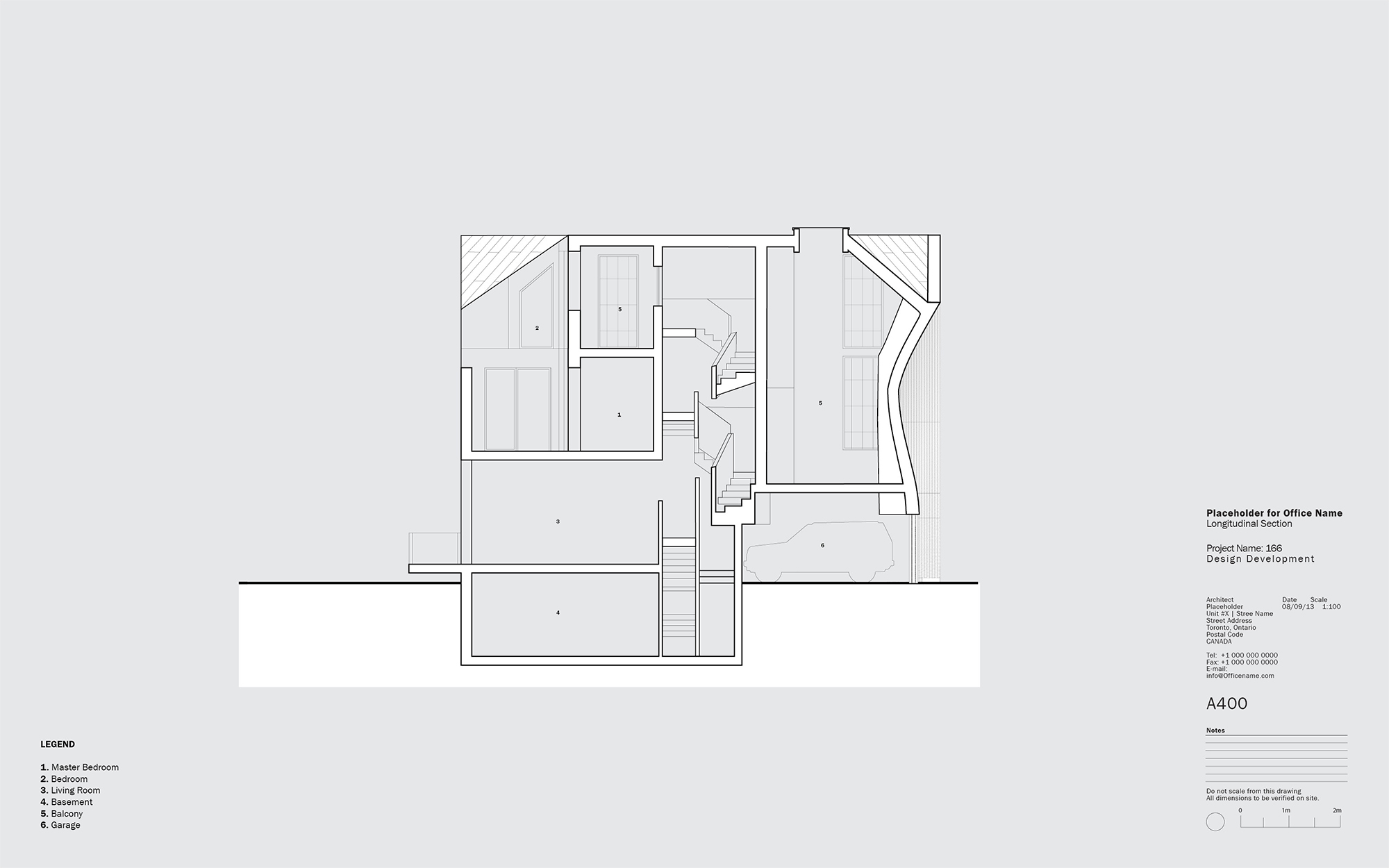 Multiple layers of indoor and outdoor privacy
View from the second bedroom towards the private side yard

The privacy of the 'dipped' side yard
The sunken space and the expression of the neighboring wall viewed from the third floor stair
Leads: Nima Javidi, Behnaz Assadi